-
Bio
-
Event Guide
-
Photos
-
Downloads
-
Lyrics
-
Discography
-
Shop
-
Links
-
Contact
-
FAQ
AMPHIBIAN GUEST PIT
Triple J Unearthed! posted 28/05/04
Triple J are unearthing QLD bands at the moment, the band sent their song 'End of the World' which you would have only heard at gigs so far. You hear a sample of it in the Downloads section.
Bewildered Photos! posted 4/04/04
Check out some of the pix and the video of the band at this cool festival. If you took a photo of the band at the festival, and you want it up on the site, email it to summerrockmusical@hotmail.com.
Click here to go to the photo section for the pix <<<<<<
Click here to go to the downloads section for the video <<<<<<
..........................................................................................Leave a message in the AMPHIBIAN GUEST PIT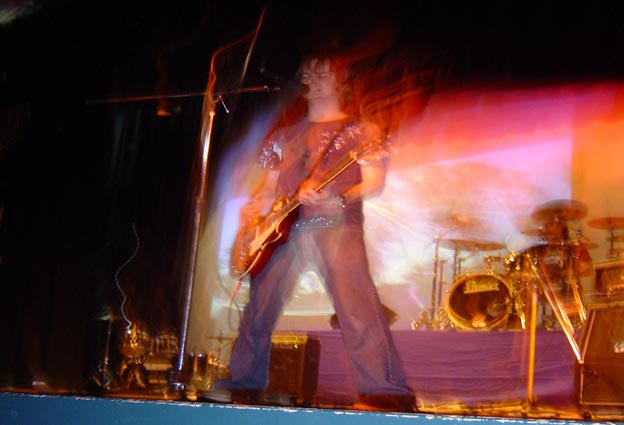 Thrown to the lions! posted 28/06/04
This Sunday 4th July you can catch the phibz playing an all ages gig in Brisbane. Near King George Square in the middle of Brisbane city is a place called the Lions Den. The day starts at 2pm in the afternoon and amphibious will hit the stage at 4pm. Check out the Event Guide for all the details.
Anemic Review! posted 20/04/04
The 'Summer Rock Musical' EP has been reviewed by Anemic Magazine. Go check it out at section at www.anemicmagazine.com/amphibiousreview.htm!!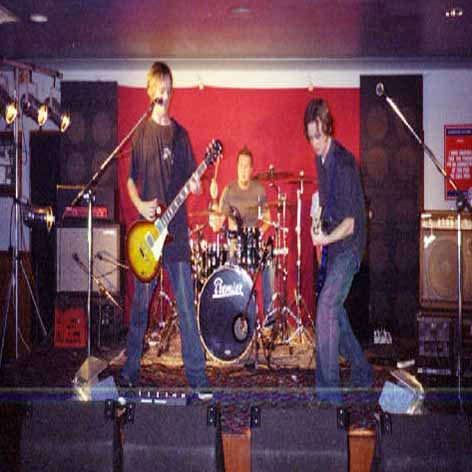 From the band! posted 02/04/04
Hey all! We've had many questions as to when we will announce the Summer Rock Musical EP launch shows. As many of you know, the EP was released on the first day of summer last year. Since its release, there has been an advertising campaign to give people in Brisbane a chance to see our name and purchase the EP from the stores. You may have noticed banner ads on noisetheory.net, timeoff.com.au, also ads, interviews, and cd reviews in local street press Rave and Time Off mags, (including this week), and also a couple of radio spots including river 949. If anyone has missed any of these we will try and get them all up on the site. We've have had a massive increase in visitors to the site (including you) which is great, and heaps more mailing list subscribers, and as a bonus are starting to sell some copies of the EP through Skinnys Music in Brisbane. Expect to see a run of smaller shows soon (check the Event Guide), and larger shows from May including an official launch and some shows outside of Brisbane. Also expect another rare demo release of two new songs in the coming month, and a brand new EP around August/September. In the meanwhile, check us out on Saturday 3rd April at Bewildered Festival (see gig guide) Thanx and may you rock forever.
Totally Bewildered! posted 21/03/04
The band has been announced for the upcoming National Youth Week Finale entitled 'Bewildered' on Saturday April 3rd. What we know is that itll feature 11 local bands, itll be FREE entry and all ages, so sounds pretty good.
Click here for a Site Map of the Venue <<<<<<
Click here for the program with band times <<<<<<

Check out the Event Guide for the details.
Skinnys Review! posted 20/02/04
The 'Summer Rock Musical' EP has been reviewed by Bec Stafford at the Skinnys Music website. Well, what are you waiting for, go to the reviews section at www.skinnysmusic.com.au and click on the local reviews!!
RAGE against the amphibious! posted 13/02/04
RAGE recently (Friday 13th) featured the national debut of the video clip for 'You will never be my girl', which has had a great reaction so far

.

Voting Poll! posted 30/01/04
vote for your favourite song off the 'Summer Rock Musical' EP. Also, check out the photo on the left of the band (sans Matt), which shows the awesome sunset following Brisbane's big storm.
.

No 5 with a bullet! posted 26/01/03
The EP has this week hit Number 5 on the Skinnys Music Top 11 EP/Singles Charts (Click to check it out)

New EP Review! posted 16/01/03
TIME OFF (21/01/04) street press has also reviewed amphibious 'Summer Rock Musical'. We've posted the reviewed in the Guest Pit. Click for
TIME OFF Magazine EP Review or
RAVE Magazine EP Review .

..........................................................................................Leave a message in the AMPHIBIAN GUEST PIT

Operation Amphibious! posted 16/01/03
Gigs have been put on hold for a few weeks until Dan fully recovers from a recent operation (Cheers for the ongoing support y'all - Dan). Medical issues aside, everything is going wicked! the EP is catching on and getting a great RAVE Mag Review and positive feedback (including being added to -Cyndi Laupers Official Site for covering 'The Goonies R Good Enough' on the new EP'). Also, their video clip for You Will Never Be My Girl is set to be on RAGE in a few weeks. So keep up with the action! .

..........................................................................................Leave a message in the AMPHIBIAN GUEST PIT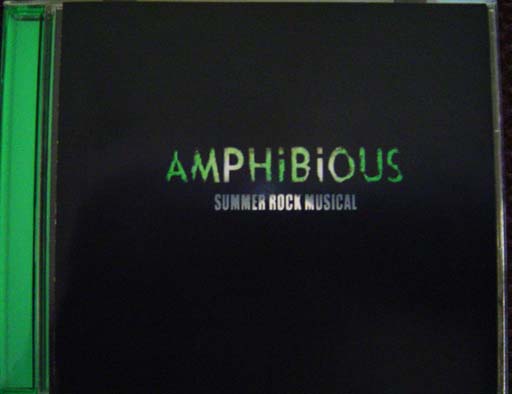 The Critics View! posted 21/12/03
The new EP has received its first review in a recent Rave Magazine, check it out in the AMPHIBIAN GUEST PIT .

..........................................................................................Leave a message in the AMPHIBIAN GUEST PIT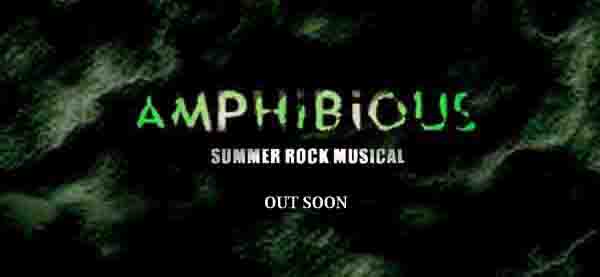 THE WAIT IS OVER! posted 29/11/03
The new EP "Summer Rock Musical" is available in Brisbane now from Skinnys Music (go instore, or order with their online shop facility) . Find out more about the EP in the Discography section, and hear some samples.
.

..........................................................................................Leave a message in the AMPHIBIAN GUEST PIT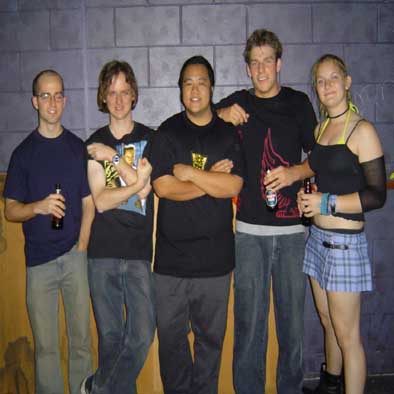 New Photos! posted 2/11/03
Some photos are up from the Tour amphibious did with New Zealand band Mighty Scoop and Brisbane band Semicolon. Onstage photos are coming soon
Click here to check em out!
.

..........................................................................................Leave a message in the AMPHIBIAN GUEST PIT
2 cool shows this week! posted 26/10/03
You can catch the phibz at the Troccadero Sports Bar on the Gold Coast this Thursday 30th, and then on Saturday 1st at Alley bar in Milton. All shows are in support of MightyScoop from NZ, and fellow Brisbanites Semicolon.
Click here for the gig guide!
.

..........................................................................................Leave a message in the AMPHIBIAN GUEST PIT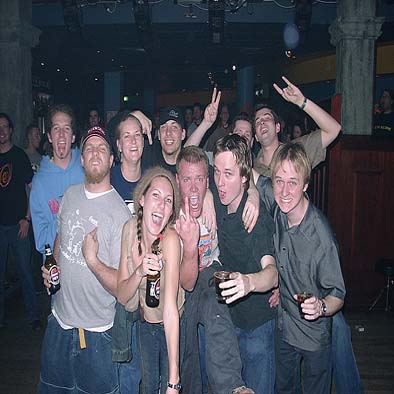 SPOTTED IN THE CROWD! posted 14/10/03
OK, heres a little something to fill in 2 seconds of your time. Hard rock aussie band anotherace split a while ago, but they took a photo of the crowd at their last Gold Coast concert, and we found this photo on their website, and guess who is in the crowd?
Click here and check out the two dudes on the right!
.

..........................................................................................Leave a message in the AMPHIBIAN GUEST PIT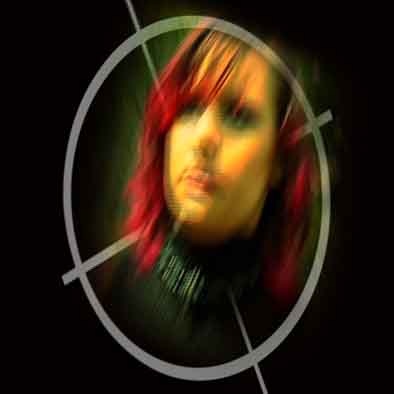 MORE FILM CLIP PIX! posted 4/10/03
Thanks to those who caught amphibious last night on 101FM radio yapping about themselves and Freefall festival and what not, and to celebrate here is
9 MORE SHOTS FROM THEIR UPCOMING VIDEO CLIP!!
.

..........................................................................................Leave a message in the AMPHIBIAN GUEST PIT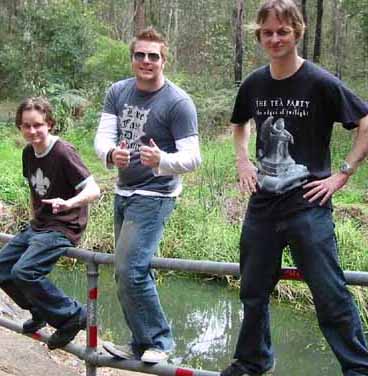 AMPHIBIOUS ANNOUNCED FOR FREEFALL 2003! posted 02/10/03
Amphibious will play this years Freefall Festival, it all very exciting news. The phibz have dedicated a page to the leadup to the festival so keep checking it out as developments occur. The complete phibz guide to Freefall Festival!
.

..........................................................................................Leave a message in the AMPHIBIAN GUEST PIT
---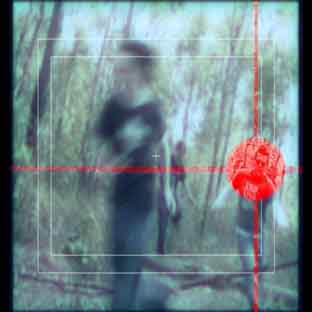 BIG SHOWS AHEAD! posted 29/09/03
Already in the pipeline for amphibious, are 2 gigs with New Zealand band Mighty Scoop and fellow Brisbane band Semicolon at the end of October! The boys will play the Troccadero Entertainment Centre on the Gold Coast, and The Alley in Brisbane. More exciting shows announced soon!
.

..........................................................................................Leave a message in the AMPHIBIAN GUEST PIT
RADIO KILLED THE VIDEO FROG STAR! posted 15/09/03
If your in Brisbane, tune in this Friday night at around 9pm to radio 101 FM to hear a few amphibious tunes and whatever else! The band will be promoting the upcoming FreeFall Festival 2003!
.

..........................................................................................Leave a message in the AMPHIBIAN GUEST PIT
---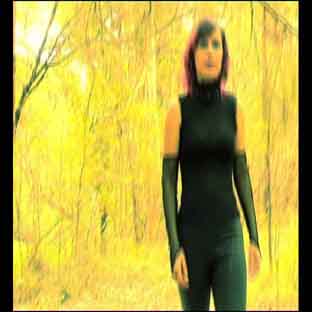 FILM CLIP PIX! posted 04/09/03


7 STILLS FROM THE ACTUAL CLIP JUST ADDED!

!
.

..........................................................................................Leave a message in the AMPHIBIAN GUEST PIT
---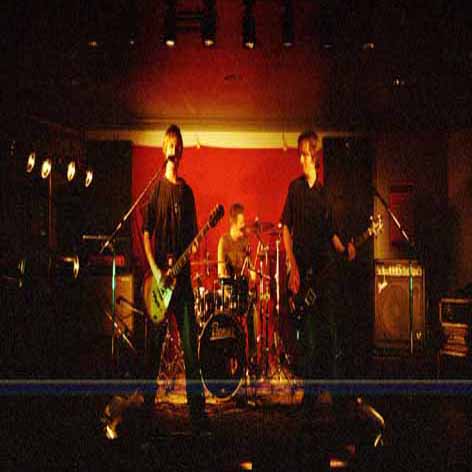 FESTIVAL FUNDRAISER ROCKED! posted 18/08/03
The phibz played the Freefall Festival fundraiser on saturday night and it was great to see a big crowd there to party the night away. The other bands that played were Hotel 44(CD launch), Half Way Out, Freestyle and Broken Shanty who all rocked, and thanks to the organisers. PHOTOS ARE UP NOW!
..........................................................................................Leave a message in the AMPHIBIAN GUEST PIT
Click here for Past News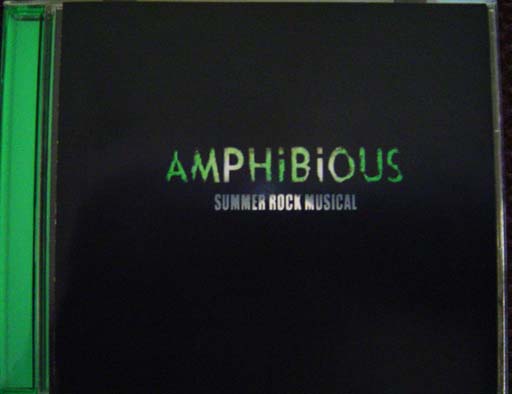 'Summer Rock Musical' EP
out now at
SKINNYS MUSIC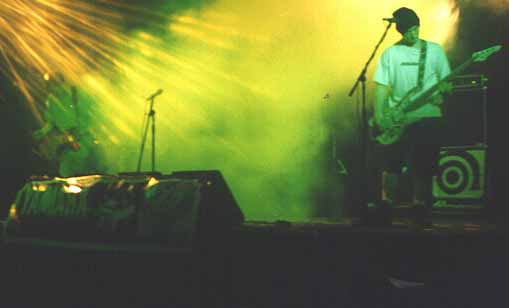 Possible setlist for Rapid!

posted 27/06/03
Check out the possible setlist the phibz could be playing at Rapid. And just for interests sake, check out the contrasting setlist for an amphibious show way back in 1998 from one of their first gigs, when it was all noise and thrashing! Click here to check it out!
Timetable for Rapid!

posted 15/06/03
New Zealand rockers Zed are opening the day on the Kerrang Radio stage from 12.00-12.30, and then make sure you rush over to the TimeOff stage to catch AMPHIBIOUS at 12.30!!!
CLICK HERE to check out the Rapid Timetable (acrobat version)!
Phibz get new Tenants!

posted 01/05/03
Amphibious are doing a show with the currently touring The Tenants (well known for their JJJ song 'Sh%t me to tears' a few years back)!
Click on the picture for the gig details!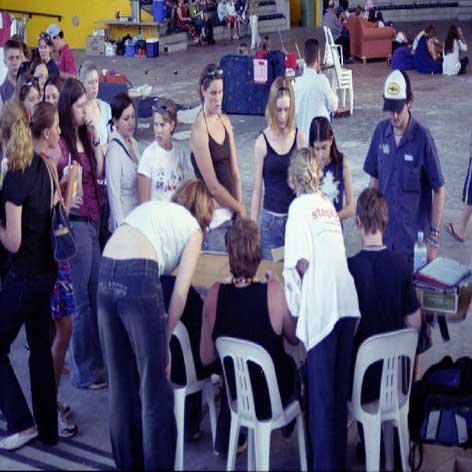 Southbank Fun was had!

posted 17/04/03
Amphibious played the Visible Ink Festival and it was wicked/awesome!
Click 4 photos AND video and review of amphibious at the festival!
Please stop calling me? posted 5/04/03
The phibz have a chance to support Shakaya and Charlton Hill at the Ipswich Festival on April 12th! Thanks to River 94.9fm 'untapped', they play the show the night before at the Ipswich Festival, and if they are chosen they will support the mentioned pop acts. So keep your eye on the Event Guide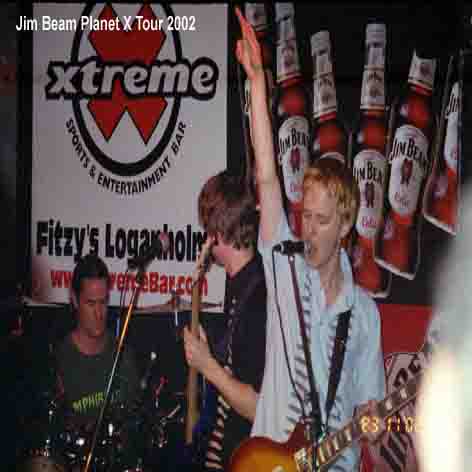 We are the youth! posted 5/04/03
This Sunday April 13th, following the Shakaya gig, amphibious will rock the closing of youth week. 'Visible Ink' is hosting the festival at Southbank Piazza, so check out the Event Guide for the details!
Frogs on Radio? posted 26/03/03
If you were tuned into popular radio station River 949 on wednesday night with DJs Goldie and the Kid, you would have heard an interview with Dan and their song 'You will never be my girl' cranked over the airways. Amphibious are in the running to support big pop acts like Shakaya and Charlton Hill at an Ipswich festival on April 12th. Thanks to anyone who SMSed the station to vote for us. Keep your eyes on this page!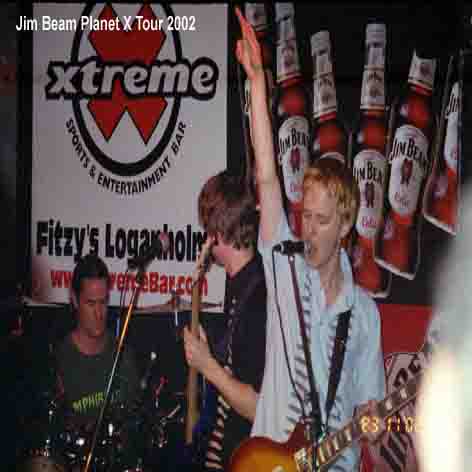 RATM meets TAXIRIDE? posted 25/03/03
Amphibious have been getting plenty of pre-release feedback on their next single 'You will never be my girl'. These are some of the anonymous opinions the song has received....

1: 'Its very catchy. It sounds like a cross between Taxiride and Rage against the Machine.'
2: 'Definately a cruisin/surfing sort of sound, kinda silverchair but more poppier. Very commercial.'

Sounds good! Soon it will be YOUR turn to find out for yourself.
Film Clip Pix! posted 07/03/03
Everyone on the amphibious mailing list has already gotten an exclusive look at these behind-the-scenes pix, so now its your turn to check them out! Special thanks to solo artist Leigh-Chantelle for taking the photos, and Nasty Studios for their professionalism!
Video a Go-Go! posted 30/02/03
After 10 hours of shooting and heaps of fun in different locations, amphibious have finished their video clip! If you want to have an exclusive first look at the behind-the-scenes photos, you had better hurry up and sign up to the mailing list!
Amphibious Mascot! posted 15/02/03
Meet Phibzy! The unofficial amphibious mascot! Phibzy will pop up here and there on posters and promotional material and may make an appearance on the new EP! Watch out for him!
frogs on film! posted 2/02/03


Here are some more tiny details about amphibious video clip for 'you will never be my girl'. There will be 4 locations: A stage, coffee shop, street, and construction area. There will also be 3 costume changes! The EP will surface in the coming months and it has been produced to an international standard! So watch out for it!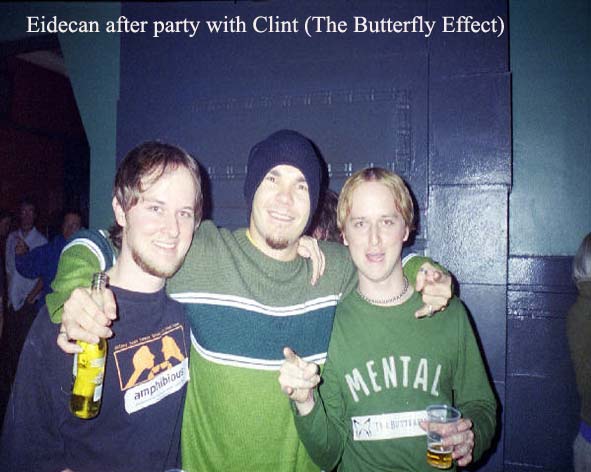 From the frog's mouth! posted 16/01/03


Question: Have you always wanted to know who the evil twin is? Ans: find out that and more in the new FAQ section !
Question: Need the latest amphibious accessories? Ans: Go shopping at the new Shop section and see whats available!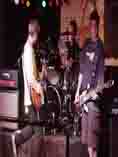 Video phibbed the radio star! posted 2/01/03


Happy New Year Everyone! To kick off 2003, amphibious are preparing to shoot a video clip for the song "You will never be my girl" off their up-coming EP! The location for the video is near Brisbane's Southbank, and should be a ripper! More updates soon!
Phib go in-SAIN! posted 28/12/02


Amphibious have their photo in this month's SAIN magazine which is FREE from any Sanity store. Skip to page 55 to see a photo of the band in action at the Jim Beam Planet X Tour, and an article on how the night went!

Amphibious kicked out of venue! posted 28/12/02


Amphibious were evicted from a local venue at a recent show when confusion arose over the legal drinking age of the band members. Despite all members being above drinking age, onstage comments from singer/guitarist Dan lead management to believe they were actually under 18 years of age and therefore were not allowed in the Hotel, let alone drinking. Dan acknowedgles that his onstage comments of "None of us are 18 yet" and "We had better finish our beers before anyone notices" were in fun. Nevertheless, all was sorted out, and the band is looking forward to a friendly return.

The X Factor! posted 24/11/02

Amphibious had a sweet time at the Jim Beam Planet X show and it was a really action packed evening. The phib were well received by a crowd of over 200 party people, and played for around 30 mins! The show was filmed by Planet X, to be shown on TV worldwide, and they also interviewed Daniel immediately after. AWESOME PHOTOS ARE UP so go and check them out! The other bands were Ginger and Care factor Zero who were both awesome. Punk rockers Care factor Zero were chosen to rock the sydney superdome, and theyll definately put on a Planet X worthy show.
Not so Rave Review! posted 20/11/02


This weeks popular street press 'Rave' Magazine, features an unfavourable review by punk reviewer Bianca Valentino, of amphibious' performance at last weeks Troccadero showcase gig. With quotes like "how many songs can one band play in a set about love and girls".

Answer: AS MANY AS WE GODDAMN LIKE!! Check out some Live Video Footage of the gig in the new Downloads section!

Jim Beam tastes so good! posted 12/11/02


Amphibious are one of the three bands in QLD to be selected to play at the Jim Beam Planet X Tour 2002! The event is at the Xtreme Bar, Fitzys Hotel. From 5pm, the Sportszone will feature BMX riders, skaters, MotoX, Djs, break dancers, and amphibious kick start the MusicZone at 9pm. One band out of the 3 will be selected by Festival Mushroom Records to play at the Planet X Games 2002 at the Sydney Superdome. So come along and party at the Jim Beam Planet X Tour 2002!! (See above for details)
The Line-up! posted 05/11/02

Amphibious welcomes top drummer Scott Wade to the band, who has been a friend of the band for quite a while. Scott has settled in nicely since Nate moved from drums to bass. The band is currently working on new songs as well as songs featured on upcoming EP. Watch out for a gig very soon!
Check out the Bio page for Scott's profile!
The new EP update! posted 04/11/02


The new amphibious EP, set for release early 2003, will feature the songs....
You will never be my girl
love and breaking up
The Letter
drifting away(a new version of the previous single)
and more!
Check out the -Sound page for lyrics to these songs, and watch out for upcoming gigs.
The latest goss! posted 10/10/02


Believe it or not, in a crazy but exciting decision, the NEW LOOK amphibious features twins Dan and Nate up front. Nate's moved from drums to bass guitar. In other exciting news, amphibious have been contacted by numerous independant labels who want to distribute their upcoming EP. Much of this interest came from the national airplay of their unreleased song 'love and breaking up' on Triple M Sydney. More soon!
Amphibious just miss out on M-One Festival! posted 25/09/02
The phib just missed out on playing at ANZ Stadium with all the big names! Instead they've received a runners-up Lifehouse pack full of CD's and what not, plus their songs are being played on national radio. So thats the good news! The winning band was a hard rocking band called Cartel, who should do a good job rocking the Stadium.
New EP and lineup almost ready! posted 25/09/02
Amphibious have nearly finished recording their New EP which will follow up the 'drifting away' single released earlier. Without giving too much away, there are 4-5 exciting new songs, and its due for release around January 2003. Also, a new bass player will be announced soon to fill in the big shoes left by Garth.

Farewell to Garth (Bass player) from amphibious posted 24/09/02
In a sad but ultimately brave decision, Garth (Bass player) has decided to take a step back from amphibious. Dan and Nate give Garth all their support, and thank him for the years of good times with the band. Click here to read Garths Farewell on the amphibious message board!

Moving on! posted 24/09/02
Nate and Dan are very supportive of Garth's decision and are thankful for all the magic he has created over the past 5 years. None of us will forget our first gigs at battle of the bands back in 1998, and all the action between then and now. Garth will always be a part of amphibious, just like all our friends, family and fans who have been there over the years. Nate and Dan are stoked to have Garth's full support to achieve more and more musically. We will be stoked to know we have everyone else's support as well. Thanks everyone.